The project is carried out by the Yaounde City Council but many road users say the idea is for such lights to be respected.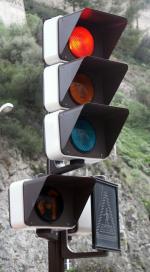 A banner across the Yaounde Central Post Office roundabout reveals that the Yaounde City Council is in the process of rehabilitating traffic lights at some points along major roads in the city. While Cameroon Tribune (CT) reporters take interest in such a project which should greatly facilitate circulation in road junctions, roads users say the issue is not about rehabilitating traffic lights but ensuring that the purpose of these lights is respected and areas that require such lights should have them.
A driver in Yaounde, Gilbert Etchu, says it is good news to know that traffic lights around the Ahmadou Ahidjo Square, the French Cultural Centre (CCF), Bastos, Warda, Avenue Germaine, Mobil Essos, Plateau Hotel, Elig-Edzoa, Ecole de Police and Elig Essono neighbourhoods in Yaounde will be rehabilitated. Such an initiative, Gilbert Etchu added, is highly appreciated by road users because it will not only limit the number of accidents that usually occur around such points but will also reduce traffic congestion in a town like Yaounde where the phenomenon is a daily occurrence. However, Gilbert Etchu says for these traffic lights to play their role, the City Council should effectively ensure that they work and road users respect the traffic light signals.
Another road user in Yaounde, Richard Nat says many people seem not to know the role of the set of red, yellow and green lights which control the movement of vehicles and people in various junctions along road. According to Richard Nat, there are drivers who see the red light signal but still drive past. He added that many motorbike riders do not feel concerned about traffic lights and as such drive around with no sense of direction. This is why in spite of the presence of traffic lights in Yaounde, there is still huge traffic congestion at areas that are not supposed to be congested. If not of the presence of traffic police officers, Richard Nat says, road users at no time will respect traffic lights.
Most pedestrians even seem more confused with the existence of traffic lights as many have missed being knocked down by vehicles each time they attempt to cross the road. Tina Augustine narrates how she was almost knocked down by a vehicle as she made her way through a Zebra crossing along a traffic light zone.
As Tina took steps along the Zebra crossing, the traffic lights turned green and drivers immediately pressed down their acceleration pedals without taking into consideration that somebody was crossing. From all indications, many people are confused when it comes to the functioning of traffic light. Efforts of the Yaounde City Council should therefore not only be limited to rehabilitating traffic lights but also educating road users on their uses.