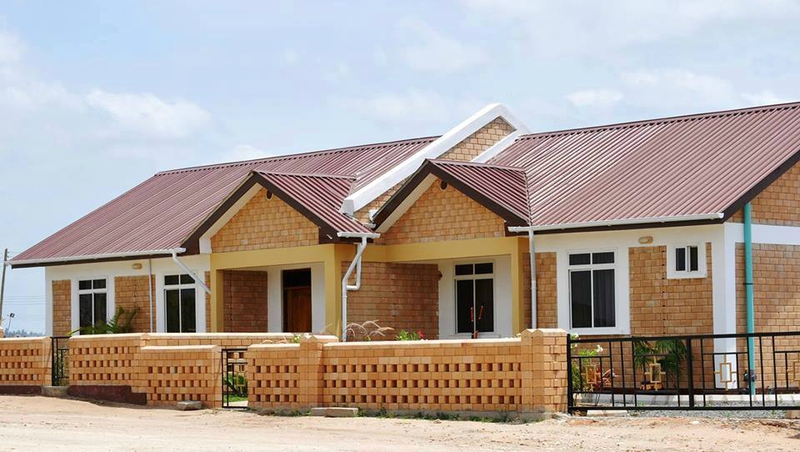 Prof. Uphie Chinje Melo, Director of MIPROMALO.
On the occasion of the visit to Cameroon of the Italian President, Sergio Mattarella, some Italian companies expressed the wish to open brick factories in Cameroun. What appreciation do you make of this zeal towards local materials in which you have been operating for several years?
My opinion on Italian companies interested in operating brick factories in Cameroon is positive, very positive. MIPROMALO has attempted to partner with two Italian companies, Modena ImpiantiLaterizi and MarchelluzzoImpiantiS.r.l (among several European companies), to set up brick factories in Cameroon but encountered several difficulties linked to the inadequate status of our institution and the very lengthy procedures in setting up an industrial plant exploiting national resources. During the Head of State's toast at the dinner offered to the Italian President, he once more called on increased local transformation of our rich sub-soil to build multiple economic and social infrastructures. The Italian companies should not limit their expertise on brick production which could be extended to other ceramic products (sanitary ware and tiles) and stone (granite, marble etc..) dimensioning. I hope the installation of European companies producing local materials will defy the myth that Cameroon must remain dependent on imported construction materials.
MIPROMALO has exhibited a lot of competences in the production of local materials, yet the demand for it remains extremely low. Does this reticence match with your expectations?
I am delighted that Cameroonians in general are not reticent in using local materials. The vast majority of traditional houses in Cameroon especially in rural areas employ local materials, essentially earth, wood and stones. The inability to modify these materials exploiting the competences of MIPROMALO is a failure on the part of those responsible in the development of the welfare of the people. What do you say when quality imported earth block presses are distributed free of charge to 70 municipalities (in 55 Divisions in all 10 Regions) followed by training of technicians in these councils, but three years down the line, about 90% of the presses have not been removed from their packages! It is a pity. These decision makers I think are reticent or lazy to change, even to such positive change. Civil engineering technical education establishments have over the decades remained clued to training only on cement and concrete (all cement factories in Cameroon import clinker as primary input in spite of the abundance of clay and limestone local resources). Studies have shown that using local materials : (a) has a 4.3 times economic advantage to imported materials; (b) is about 25% cheaper (compressed earth blocks to sand-cement blocks) in wall construction and 90% more ecological (CO2 emission) than cement; (c) does not require regular painting; (d) creates more jobs; etc, etc. Cameroonians who travel abroad admire the beauty of brick cities. MIPROMALO has trained thousands from all ten regions and built prototype schools and homes. It is time decision makers join the Head of State in his 2035 Vision, it cannot be achieved without "made in Cameroon"materials.
How far has public authorities complied with the Prime Ministerial decision obliging public buildings of at least one storey to be constructed with the use of local materials
The Prime Ministerial Circular of 12 March 2007 relating to the use of local materials in the construction of all public buildings of up to one storey was addressed to Ministers, Governors, Senior Divisional Officers, Mayors and General Managers of State Corporations. This circular was a result of detailed studies of the sector between 2005 and 2007, and subsequent actions such as elaboration of standard tender documents, training of MINTP project controllers and technicians of contractors, publication of technical documents, detail cost analysis have confirmed the circular should be implemented. Two public institutions stand out: MINFI and MINTP. MINFI in its 2015 and 2016 Circular on instructions relative to the execution of Finance Laws (articles 269 and287 respectively) requested the implementation of the Prime Minister's 2007 Circular. MINTP on note 631314/L/MINTP of 7 August 2016 requested all Regional and Divisional Delegates to implement the Prime Minister's circular, in addition to the fact that local materials are in the training programmes at all levels in Public Works schools. Through the MINTP/MIPROMALO partnership signed in 2010, over 25 classrooms, residence and market stalls have been constructed in addition to several other projects executed by MIPROMALO. All the projects had training, technology transfer and sensitization components.
Unfortunately, Ministries responsible for building basic public infrastructures such as MINMAP, MINESEC, MINEDUB, MINSANTE and MINATD still prescribe solely the use of cement and concrete (neither bricks nor stones) in their construction projects. In November 2014, the Prime Minister signed an Order creating a Piloting and Follow-up Committee to supervise the implementation of the 2007 Circular. Almost two years later, we are yet to see tender documents prescribing the use of local materials, and the dance continues.
What other strategy do you intend to adopt to whip up the interest of Cameroonians on local materials?
We are reaching out to the private sector, for example over 1000 persons acquired fired bricks for their projects from our semi-industrial Nkolbisson plant. We hire out production equipment.We are building pilot houses in all ten regions (Bamenda, Kumba, Ebolowa, Bafoussam, and Ngaoundere already completed) to sensitize the public and currently extending pilot production units to other parts of the country beyond our structures in Yaounde, Garoua and Bamenda. We are seeking authorization from our supervisory authorities to partner with the private sector while hoping the partnerships already engaged with C.F.C, FEICOM, CVUC, MAETUR, LABOGENIE, and some Councils will yield results in the very near future. Of course, we need to intensify our communication using diverse media – written, social, billboards, TV, Open door days and participation at exhibitions to promote low cost options of home building. We are setting up a Mechanical workshop to enable us reduce the cost of basic equipment for materials production. Currently, the cost of imported quality manual compressed earth interlocking blocks press (1500 blocks daily production) initially FCFA 5 – 7 million is now as low as FCFA 2 million. We are promoting projects of one bedroom/sitting room modern homes that can be built at FCFA 3 000 000 and two bedrooms/sitting room at FCFA 4,500,000.
We are pursuing partnerships with some technical ministries – MINESEC and MINEFOP to train youths in the production and use of local materials, as well as measures to increase intake in MIPROMALO's Professional Training Centre.
______EXTRAITS TRADUITS
Grâce au partenariat MINTP / MIPROMALO signé en 2010, plus de 25 salles de classe, de résidence et d'étals de marchés ont été construits en plus de plusieurs autres projets exécutés par la MIPROMALO. Tous ces projets avaient les composantes formation, transfert de technologie et sensibilisation.
Malheureusement, les ministères responsables de la construction des infrastructures publiques de base tels que MINMAP, MINESEC, MINEDUB, MINSANTE et MINATD prescrivent encore uniquement l'utilisation du ciment et du béton (ni briques, ni pierres) dans leurs projets de construction. En Novembre 2014, le premier ministre a signé un décret créant un Comité de Pilotage et de suivi pour superviser la mise en œuvre de la de la circulaire de 2007. Près de deux ans plus tard, on attend encore de voir les documents d'appel d'offres prescrivant l'utilisation de matériaux locaux, et la danse type continue.
Quelle autre stratégie comptez-vous adopter pour susciter l'intérêt des Camerounais pour les matériaux locaux?
Nous tendons la main au secteur privé, par exemple plus de 1000 personnes ont acquis auprès de notre usine semie-industrielle de Nkolbisson des briques cuites pour leurs projets de notre. Nous louons des équipements de production.Nous construisons actuellement des maisons pilotes dans les dix régions (Bamenda, Kumba, Ebolowa, Bafoussam et Ngaoundéré sont déjà terminées) pour sensibiliser le public et nous étendons actuellement des unités de production pilote à d'autres parties du pays et en plus de nos structures à Yaoundé , Garoua et Bamenda. Nous cherchons l'autorisation de nos autorités de supervision pour établir des partenariats avec le secteur privé tout en espérant que ceux déjà engagés avec le C.F.C, le FEICOM, la CVUC, la Maetur le LABOGENIE et quelques communes donneront des résultats dans un avenir très proche. Bien sûr, nous devons intensifier notre communication en utilisant divers médias - écrits, sociaux, panneaux d'affichage, TV, journées portes ouvertes et participation à des expositions pour promouvoir les options de construction de maison à faible coût. Nous implantons un Atelier Mécanique pour nous permettre de réduire le coût des matériaux de base pour la production. Actuellement, le coût des presses manuelles de briques de terre emboitables de qualité importées (1500 blocs produits chaque jour) qui étaient au départ entre 5 et 7 millions de FCFA coûte désormais aussi peu que 2 millions de FCFA. Nous faisons la promotion de projets de maisons modernes avec une chambre / salon qui peuvent être construites avec 3 000 000 de FCFA et celles de deux chambres à coucher / salon à 4 500 000 FCFA.
Nous poursuivons des partenariats avec certains ministères techniques - MINESEC et MINEFOP pour former les jeunes dans la production et l'utilisation de matériaux locaux, ainsi que des mesures visant à l'augmentation de l'apport du Centre de formation professionnelle de MIPROMALO.