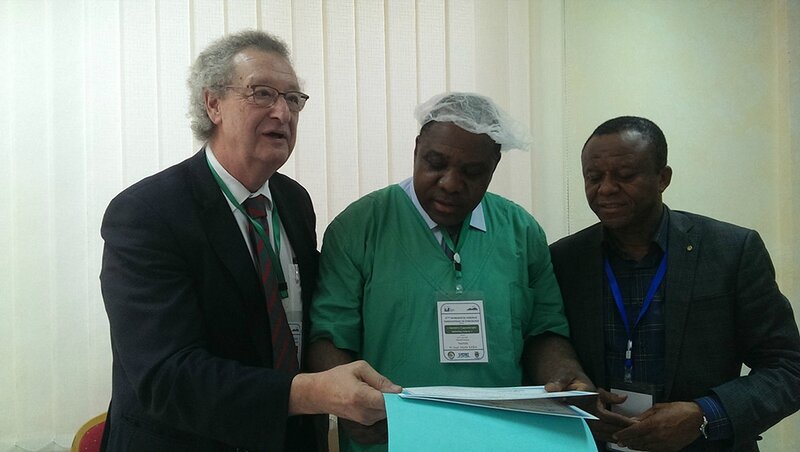 Prof. Jean Marie Kasia, Director General of the Hospital Centre for Applied Research, Endoscopic Surgery and Human Reproduction (CHRACERH).
Professor you spoke about the health of the lady who is 52 years old and that certainly means a particular way for follow up after the birth of the baby. What are the measures that will be taken to ensure the health of both the mother and the baby?
Care taken for the child will be exactly what will be done for any child. There are no particular conditions except if the patient herself had a previous problem. But she didn't have any problem. Yes, towards the end she started having some of high blood pressure that was three or two days ago. I think it was because of the anxiety not because she was a hypertensive patient.
So to the mother we are going to give her the exact care like that of any woman who has given birth. But only that she is an old woman and has to be very careful. At anytime something can happen even immediate postpartum or late postpartum. So we have 48 hours and even one week to follow this patient here to ensure that everything is okay.
Does it mean other ladies who are above 50 years because you said in Spain 60 years for a woman it was possible. Does it mean in Cameroon also it can happen?
The only thing I can say is that we want to see how far we can go and how far we can improve our technology here in Cameroon. But the major problem is that we shouldn't encourage patients to wait to this age before attending our clinic. We waited for women who want to achieve pregnancy to be here before 40 years old. But this is a special case. The problem is that unfortunately we had a lot of patients who are waiting since forty years.
I have been working here in Cameroon for about 30 years now. I have consulted many women and can you imagine the number who had this number of problems and who couldn't achieve the invitro fertilization techniques. So we have a big number of women who are waiting but I am not sure that we can satisfy all those women. What I am saying to Cameroonians is that when you have problems come very early. It is better to have a child come at least 30, 35 at least 48 than at 42 or 60.
Should we always expect successes in such operations or there can be situations where there are failures?
Yes it is not a routine situation. We have two patients one is 55 years. Now I can tell you that the pregnancy is very difficult to handle. So, I think the success is not always certain but I think it is better to make them have their baby before. If you have to perform it we can perform it since the demand is very high. Now we are going to start another series of 60 patients. We have 30 that are below 30 years and 30 that are below 42 years.
The problem is if we are right because there are two rights here, the right to achieve a pregnancy and the right to have a child. So we have to deal with those two rights; can we refuse the patient who comes to see us at 60 years old? It is her right. But the government will see how it is going to put out things in order to set out the rules. We propose the rules and the laws and we are waiting for the decisions.
I am here to provide the technologies offered to the people. Now the society has to choose even according to the religions. According to the religions the situation can be different. Certain things are forbidden in some religious organisations.