Economie
Nkeze MBONWOH | 02-11-2016 08:16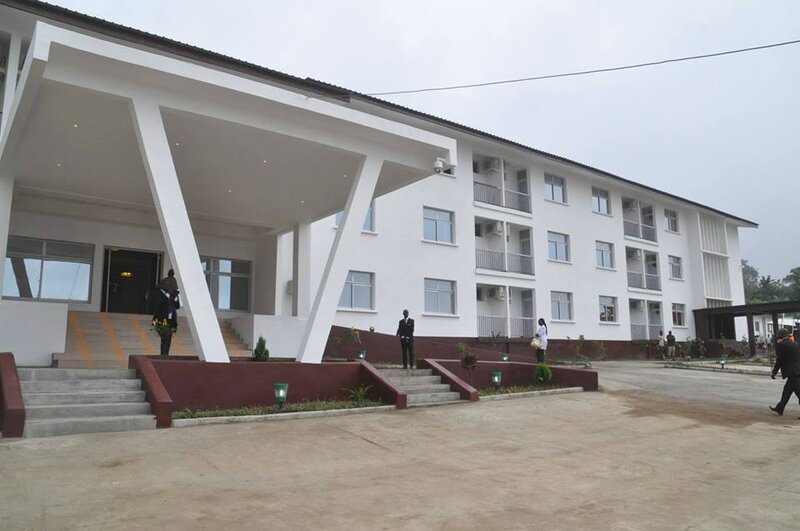 Nfor Thaddeus, Manager of Parliamentarian Flats Hotel, Buea, talks on preparations for hosting the 2016 Women's AFCON in Limbe.
Among the hotels chosen to host players of the female AFCON in Cameroon is the famous Parliamentarian Flats in Buea. When are your guests coming in?
We are hosting Nigeria and Mali. In actual fact we do not have the exact date as to when they are booking in. But it is understood that they must be here at least three days before the matches begin. I just believe that they can come much earlier to acclimatize. On this score we are expecting them any moment.
Is your hotel ready with all the facilities?
We are ready. As you can see for yourself, the beds are all in place. The last consignment of kitchen equipment has arrived and this week we are putting them in place. The restaurants are set. We think that before the 10th October, everything should be ready. We are doing the final touches. In addition to the rooms, kitchen and restaurants, we have other facilities for leisure. We have a multipurpose court, where they can play tennis, basketball and volleyball. We have a swimming pool, which is already set. We have a fitness centre with equipment installed.
How many staff members have you to withstand the pressure?
Before, the hotel came under renovation it was functioning already. We are calling the staff that was here and even to add what we usually call extras to back up the operations. We have done a ratio of what we need, over 40. So, if we take the over 20 already existing and also get the extras, I think it will be Okay.
How many rooms does your hotel have?
Before, we had 30 rooms. They have been remodeled and extended to the capacity of 76 rooms. All our facilities are very modern in accordance with the norms of a four-star hotel. As such the standing of Parliamentarian Flats Hotel today is a four-star hotel. The renovation works have lasted about nine months.
Effectively, the renovation works started off here early January this year. And the contractor is a Cameroonian. I wish to take the opportunity to praise that company. They have done a magnificent job. In fact, the Prime Minister congratulated them during his recent inspection visit. The Minister of State, Minister of Tourism and Leisure had also given them special congratulations.
Your hotel, unlike others, has a specific history. May you recall it to our readers?
It was built when Cameroon was a Federated State. It was meant for parliamentarians who were coming to meet here in Buea. It also served as accommodation for West Cameroon civil servants who were coming back from training abroad. So, our hotel was meant for Parliamentarians and also members of the House of Chiefs.
That is why it is called Flats. It was not directly a hotel but flats. So, they could come and stay here, there were mini-kitchens to make breakfast and other individual facilities. It was a light Rest house in a way.
Which are some of the Cameroonian dishes you are going to propose to your foreign guests?
We are going to see how we can promote Cameroonian dishes as much as possible. We have Ndole, Kwakoko, Ekwang, Egusi Soup, Fufu-corn, Achu, Kati-kati, Poulet DJ, and everything. But I want to say that we have a particularity. You know we are hosting the teams and usually the menu for players is usually very special. As such, we will be working with the team-doctors and possibly their chefs will come with them. They will work on very specialized menu. But we have done what is called country profiles of all the teams which are coming to play here in Cameroon so that we are able to know the cultural background of the various Countries.
We have known what they like in terms of food, their etiquette, and so on. I have done research country by country. I know what a Nigerian or a Malian would like as far as food is concerned, their culture and just what they like and what they do not like. We are already training the staff and passing on this information. Even the religious aspect of things is well taken care of. There will be Christians and Muslims and for example we know the Muslims pray facing the sun and we have a duty to inform them properly.
We also have leaflets showing where to have what in Buea which we are going to distribute to them. We have hotel rooms with balconies facing the mountain or the sea. Talking about the location of Buea, the altitude, temperature, the currency, the languages, how to do shopping. We have on our leaflets the location of medical services, church areas, mosque areas so that everybody will have a document like a directory on how to live in Buea.
What special thing can you tell your guests?
We have had a lot of preparatory meetings wherein there have been special emphases on security, quality service, and we are very committed because if we put up a good show this time we will have a chance for the 2019 male edition of AFCON. So, we are very careful and we are going to treat the people coming not as strangers but as guests.