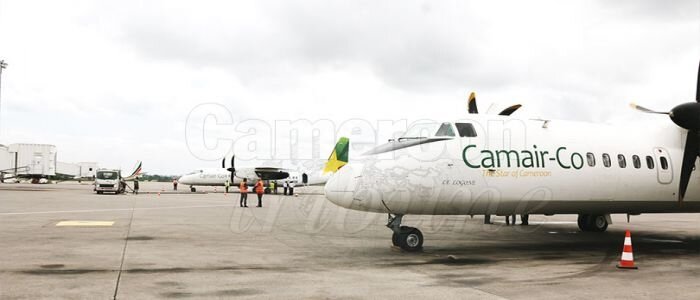 Economie
MBOM Sixtus | 25-01-2018 09:52
The Chinese-made planes have manifestly heightened the performance of the national carrier, Camair-Co.
Evidence on the ground shows the performance of the Chinese-made Modern Ark planes, MA60, which have been flying the skies of Cameroon for two years now have so far been satisfactory. Two of the planes acquired by the national carrier, Camair-Co, in 2015 carried out their maiden flight from Douala to Yaounde on January 23, 2016.
They touched down the 101 Air Force base in Yaounde to a ceremony attended by top ranking officials of the Ministry of Transport, officials of Aviation Industry Corporation of China and top staff of the Chinese Embassy in Yaounde. The two planes began flying the skies of Cameroon after being grounded for one year, due to a controversy which the Minister of Transport, Edgard Alain Mebe Ngo'o described as baseless. Meanwhile, Cameroonian Armed Forces had been offered an MA60 aircraft as a gift from the people of China.
The acquisition of the MA60 planes by Camair-Co brought to five, the number of aircraft in the corporation's fleet. Intended to boost flights between the various regions of the country, the MA60 planes effectively increased the number of flights between Yaounde and Douala and later connected both cities to Bafoussam within its first year of operation. Last year, the planes began exploration new routes, prompting the reopening of the Bamenda Airport on July 20, 2017.
To the astonishment of naysayers who had questioned the capacity of the aircraft, both planes carried out 11 flights between Yaounde and Douala in one day when a major bridge linking Yaounde to Douala collapsed on October 20, 2016. The MA60 airplanes also played a vital role when Cameroon hosted the Women's Africa Cup of Nations in the towns of Yaounde and Limbe.
They will undoubtedly be indispensible when Cameroon hosts Africa's greatest sporting jamboree, the Africa Cup of Nations, next year. They are credited for contributing to the improvement of regularity and punctuality of Camair-Co flights, which as of December 2017 stood at 86% and 71% respectively.
Additional destinations facilitated by the new planes and other reforms at Camair-Co impelled an increase in the monthly income of the corporation from some FCFA 400 million to about FCFA 2 billion.
Current destinations include Douala, Yaounde, Bamenda, Maroua, Garoua, Ngaoundere and Bafoussam. Sources say the national carrier boasted of transporting no fewer than 200, 000 passengers in 2017.
It should be noted that the acquisition of the MA60 airplanes is fruit of negotiations which took place in China on July 20, 2011 between President Paul Biya and his Chinese counterpart.